Mulesoft Training: A Complete Tutorial on Mulesoft ESB
Every Organization needs a middleware to connect the components of the software that make an application. This middleware is mentioned as ESB. Let us know about ESB in detail.
ESB stands for Enterprise Service Bus
In my blog, I would like to explain ESB in detail
Here is the full and precise meaning of ESB.
ESB deals with the point-to-point Integrations of the business. ESB implements a communication system between reciprocally interacting software applications in an SOA. ESB provides the safe, fast, and reliable backbone to the IT infrastructure of an organization.
Raising organizational growth by reducing time to market for new project implementations is one of the most common reasons companies implement an ESB as their IT infrastructure's keystone.
What are the tools in ESB?
Top ESB tools are:-
Mulesoft ESB
Red hat JBoss Fuse
IBM Websphere ESB
Oracle ESB
Microsoft BizTalk
Do you want to know which is the Best ESB for application-to-application interactions?
I would say Mulesoft is the best ESB
Let's begin with, What is Mulesoft?
In my view, MuleSoft is a vendor that provides an integration platform to help organizations connect data, applications, and devices across on-premises and on the cloud quickly, easily, and enabling them to exchange data. It is one of the most leading integration platforms for SOA, Saas, and APIs.
Mulesoft is a cloud-based technologythat connects devices and applications. Mulesoft is a middleware application that solves Business Integration problems.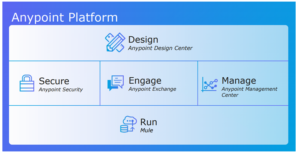 You can doubt that, why should I choose Mulesoft?
I want to say that, Mulesoft is a lightweight Java-based ESB technology. It unifies data to deliver a single customer view, automate business processes, and build connected application experiences.
The Mulesoft platform, called Anypoint Platform, includes various tools to develop, manage, and test application programming interfaces (API) which support application connections.
Do you want to know how does Mulesoft work?
It is true to say that Mulesoft provides a middleware solution to overcome the challenges of integration. Varying from other typical middlewares, Mulesoft is a Java-based middleware that is easy to use and easy to scale.
It enables engineers and integrators to rapidly and effectively interface applications, empowering them to trade the data.
Now let's discuss what the future scope of Mulesoft is?
I want to confessto you that there is a vast scope of Mulesoft developers in the future. Mulesoft is a Commonly used integration platform that merges SaaS and Business applications in cloud Management.
Mulesoft is an integration platform that has a betterperspective shortly. GiantOrganisationslike Cisco has started adapting mulesoft to integrate solutions for various API developmental activities. Not to mention their SAAS based applications that ease out the deployment process.
Based on the way I mentioned, Mulesoft is the best middleware ESB; you may think that what are the companies using this Cloud technology
So here I would like to say top companies that are using Mulesoft technology:
Audi
BMW
Tesla
Unilever
Unicef
Ralph Lauren
Spotify
eBay
HCL
Mastercard
Want to know more about Mulesoft?
Mulesoft provides integration software for connecting software applications, data, and devices.MuleSoft is a data integration platform built to connect various data sources and applications and perform analytics and ETL processes.
MuleSoft empowers organizations to innovate faster through an integration platform that allows for the seamless connection of any application, data, and device with APIs 
As we got all the required information regarding the software, let's know the certifications offered in Mulesoft?
Here certifications are divided into two categories, mainly developer and architect, so they are:
Developer:
Mulesoft Certified Developer-Level 1 (Mule 4)
Mulesoft Certified Developer-Level 1 (Mule 4) DELTA
Mulesoft Certified Developer-Integration and API Associate (Mule 3)
Mulesoft Certified Developer-Integration Professional(Mule 3)
Mulesoft Certified Developer-API Design Associate(RAML 1.0)
Architect:
Mulesoft Certified Platform Architect-Level 1
Mulesoft Certified Integration Architect-Level 1
I hope you got to know what certifications are available in Mulesoft. You might want to know are there any Prerequisites to learn Mulesoft?
Well, there are some requirements you need to possess to learn Mulesoft
Experience with an object-oriented language.
A basic understanding of data formats, such as XML, CSV, and JSON.
Basic knowledge of standard integration technologies such as HTTP, JMS, JDBC, REST, and SOAP.
You can choose any of the certification courses based on your qualification and prerequisites. Now let's talk about preparing for these courses.
We can find the information and details about Mulesoft on websites, videos, and blogs. These alternates don't provide you enough information for the preparation. We all want to learn Mulesoft entirely to think about joining a training institute to get trained professionally.
How to get trained for this course?
As per my experience, I would suggest you check with CloudFoundation institute to learn about Mulesoft in the best modes with experienced trainers and a 24/7 support team.
Training will be given in two types live-instructor and self-paced; you will be provided with the required materials to do your course like offline videos, PDF materials, and required live classes.
After getting training, you need to give the certification exam. For providing the exam, you need to get registered with the according website and have to follow the further regulations during the exam.
Finally, to conclude, I would like to Close by saying that,
Mulesoft is powerful cloud technology. It is Java-based middleware and IPaaS solution that enables flexible and scalable integrations. As we have seen that most top companies use Mulesoft for their end-to-end operations, there are no drawbacks to learning this course.
Get with the CloudFoundation to get the organized training classes for the Mulesoft Cloud course and clear your exam successfully. All you need is the proper concentration and a perfect training institute. After you earn your certification, your resume and credentials need to be updated accordingly. So that you can get your career in cloud management successfully
I hope the information I provided is up to the mark, and if there's anything that I haven't mentioned, please reach out and keep me informed.

Bhavani
Author
Bonjour. A curious dreamer enchanted by various languages, I write towards making technology seem fun here at CloudFoundation.