Pega Training – The only pega PRPC tutorial you need
Introduction of PEGA PRPC
As of April-2018, Google trends has identified Pega PRPC as Leader in the industry.
Here you can see the Google Trends Report.


What is PEGA?
PEGA is a platform which implements a systematic procedure to develop and deploy the rule-based and process-oriented explications and applications.
Customer relationship management, Business Process Management, case management, and Decision management, fields are few examples where methods and practices are an essential part of the solution.
PEGA presents a Designer studio which works as an Integrated Development Environment (IDE) to develop applicability.
The best element of the Designer studio is web-based, so a developer can collude and design explications from wherever in the world.
PEGA is one of the excellent BPM Tool accessible today in the industry. BPM Tools provides process automation and helps the firms to accomplish the potency and profitability.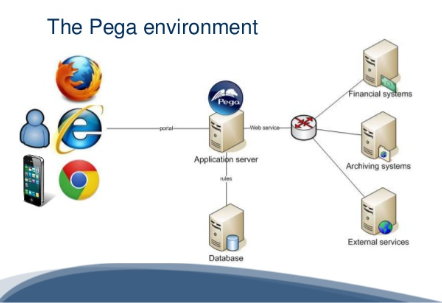 Why PEGA?
Pega product is built on JAVA and produces JAVA code behind the scenes that is executed at runtime
Pega goal is to "Eliminate coding" and "Automate manual work" to the minimum and build complex systems at the enterprise level with featuresright out-of-the box
The coreconcept pf PREGA PRPC revolves around Changes in software with time is inevitable.
PegaPRPC work is to cut down the costs involved during those changes
PEGA products tag itself says how it fits in this scenario "Build for change".
PEGA PRPC
Pegasystems Inc (PEGA) created, developed and marketed a licensed software product which is named as PEGA PRPC (Pega RULES Process Commander).
PRPC is the core element of Pegasystems's. It is entirely model driven which facilitates the growth of scalable and robust applications which doesn't require any code like SQL, Java, CSS, HTML.
Pega PRPC comes with two distinct entities,
Process Commander: Courses of pre-configured rules that present a basis to perform customization and development.
PEGA Rules: It consists of Core Java-based on Object-Oriented Rules Engine.
Including both of the following segments, PRPC merely addresses complex business difficulties:
BPM: It follows the procedure for processing within a user-interactive BPM or BPMS (BPM Suite) tool.
BRE: Declaratory "On-Change" processing within an event-driven tool.
PRPC is a software platform that enables businesses to relocate all their different, distinct and complicated business practices, methods into one platform.
It offers the opportunity of automating, documenting and streamlining, business methods to consolidate the multi-stream processing into one system.
Prerequisites of PRPC:
The Learner of Pega PRPC should have the basic knowledge on Xml & Html and finally, should hold the understanding of the logic and must have some knowledge of technologies like java or C++.Hence the class composition and legacy used in the product.
Use of PEGA PRPC
The benefits that PRPC strives from a Business aspect are as follows:
The PRPC platform that empowers the business opportunity to migrate all their diverse, distinct, and multiple business methods and rules into one platform.
Yields the capability to automate, document and streamline the business processes.
Strengthen the multi-stream methods into a single system.
Progress data among frameworks and have such data parsed, separated, and deciphered.
PEGA PRPC's goal is to reduce the costs involved during any changes.
PEGA BPM
BPM is a methodology to achieve methods and workflows in a firm. The goal of BPM methodology is to improve the production and ability in the day to day business operations.
Gartner defines as "A administration method implements the firm process environment towards the aim of developing the capacity and service performance."
BPM is a structural approach of employing methods, policies, metrics and software tool to manage and continuous optimizing organization activities and process.
Advantages of PEGA BPM
Better, faster, more cost effective
Adapt quickly to change the business applications
Process the critical business activities with quality
Reduce the number of errors, duplications and business risks
Reduces the overall IT costs and increase the productivity
Provides more security
Pega Architecture
Pegasystems has became popularized due to its centralized architecture that collects all the process artifacts, policies, user interface, and requirements at a unique place.
So, compared to other tools like IBM Lombardi or Oracle BPM, Pega does NOT have any separate tools for reporting, process design, integration, requirement gathering, and designing screens.
The core sets that are given –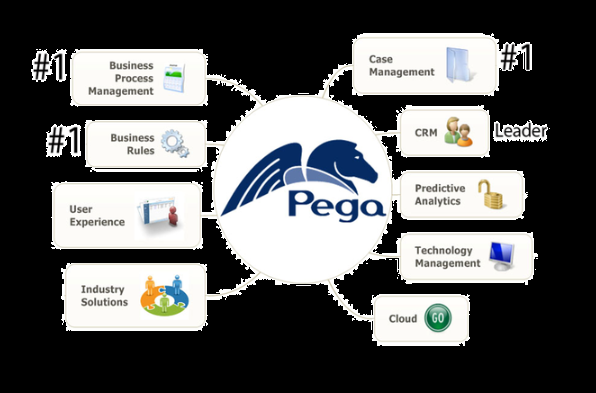 Case Management Services: A case describes to a set of structured or unstructured methods.
For example: When we reach a bank for account opening, If a case is generated, that process various functions like documents gathering, validating the back-end operations such as Legal checks, credit checks, KYC, etc..
It becomes clear to observe these multiple processes by creating the case. When all the procedures are completed, the case gets closed.
Business Process Management Services: This indicates that PRPC can be utilized for process simulation, process modeling, handle routing logic, manage SLAs, executing workflows and policies, etc.
Business Rule Services: PegaRules is nothing but the (BRE) where one can build specific rules for process integration, execution, monitoring.
We can create an application where the UI is built on a separate technology, but the logic has been composed in PegaRules.
Management Services: Relates to Business Activity Monitoring (BAM), Business Process Analysis (BPA)