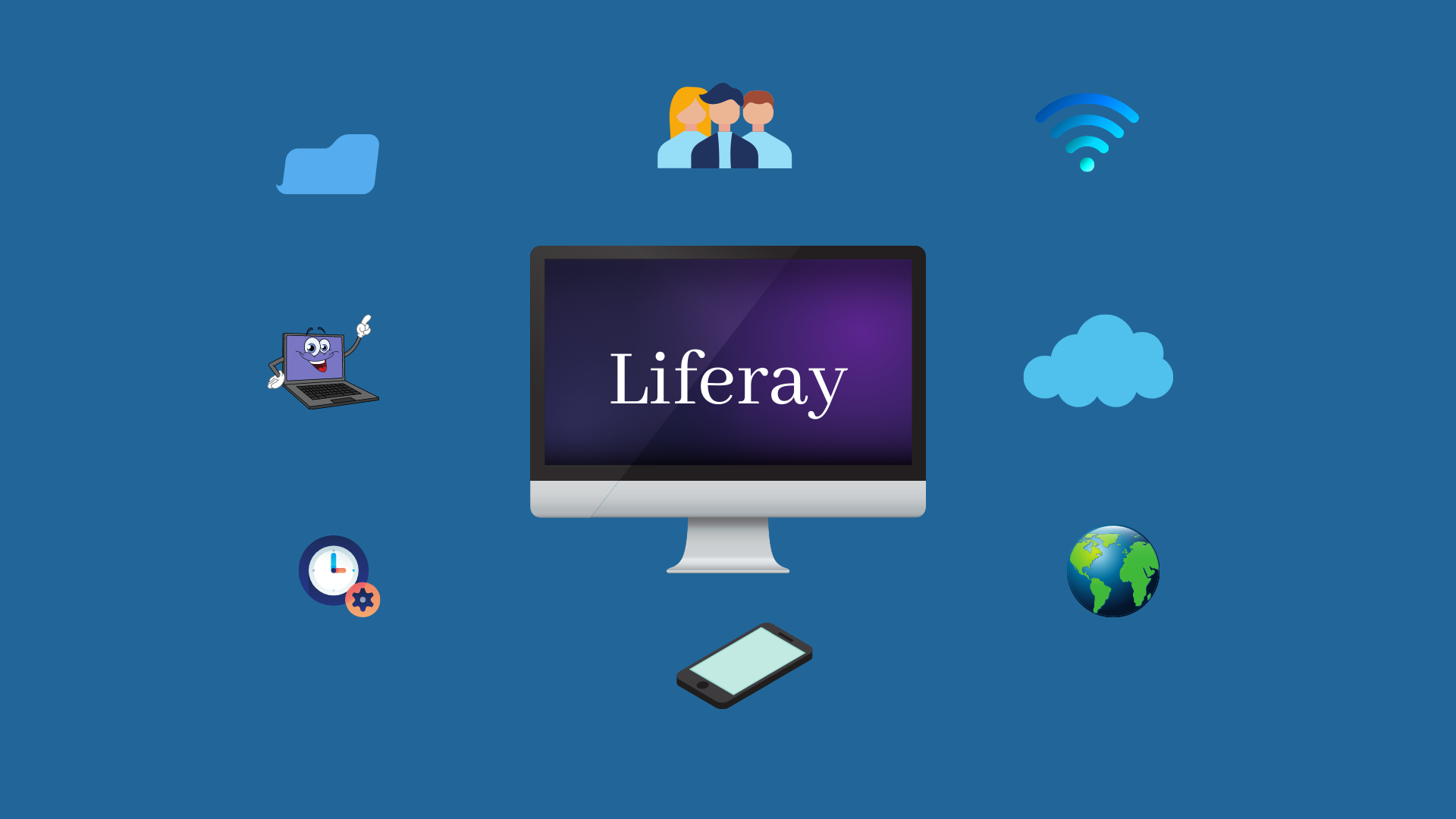 Hey there!
Let us discuss today on Liferay and Liferay Training
Designing a website and developing it further is one of the significant tasks for globally circular organizations. Improvising a portal needs expertise and technology that requires huge investments.
These enterprises look for a technology that empowers their employees and business.
But, don't you think this task is a bit complicating and money-consuming?
To clear these hindrances, Liferay has been introduced.
Haven't you ever heard of Liferay technology?
Well, I will help you out with this!
Let us begin with what is Liferay?
Liferay is an open-source where you can create websites, download, and run them. Liferay is also known as a portal platform where you can combine content from different sources to run multiple applications on the same page. Liferay is the technology that comes as a cluster of great features.
It is easy to use Liferay's features as assistance. It appears clustered with outstanding features like blogs, conferences, social networks, documents, and media managers. All these can also be personalized. Liferay is mainly used to enable enterprise extranet and intranet.
Now, how does this technology works?
Liferay allows us to create great-looking websites. It is also a CMS solution. Liferay provides user management and content management that is tested priorly. Enterprises can promptly establish websites and mobile applications by optimizing the outstanding features of Liferay.
Liferay is a Java-based platform. Development of websites with Liferay is easier. Based on the technical improvement, Liferay is the best technology. Developers can easily download it and start working on it. Most of the business applications can be designed on Liferay.
Why is Liferay best to choose?
Liferay stays competitive in the global market by handling complexities. It goes beyond the domain of digital conversion. Liferay provides a unique advantage to deployment applications and portals on public and private infrastructure. Liferay can handle complex technological aggregating to facilitate it for seamless user experiences.
Liferay is available with built Plugins and Extensions. In enterprise and community, no additional factors are required for installation. This reduces or eliminates the other expenses and saves the budgets.
You might doubt- "Okay! But what are the benefits I will be earning from this technology?"
Liferay helps companies build extensive, fast, and reliable cyber experiences for their customers with its outstanding features. It makes the content available on mobile devices.
With easy personalization, Liferay is easy to use. It makes configuration and implementation easier.
With the help of Liferay, changing the look and theme or page layout is just a matter of few clicks.
The security provided by the Liferay makes it a better choice not only for small and medium businesses but also global enterprises regarded in finance, insurance, defense department, and government agencies.
# Liferay has two main products, namely Liferay Commerce and Liferay Analytics Cloud.
I think I cleared your doubt. So, currently, Liferay is conquering all the obstacles in Cloud computing but, what would be its future scope?
IT and Cloud market are full of various exceptional technologies. Liferay is popular among the developer community. With Liferay, installations become more manageable, maintenance more accessible, and deployments more rapid. It can enhance enterprise portals to the level of automation.
Liferay has the supremacy to connect the organizations with robust enterprise portals. As Liferay is very competitive in the market, it lifts the enterprise to the next level to strike the competition before it begins.
So, based on these extraordinary features, this is a robust technology that has no drawbacks. Based on my opinion and market strategies, Liferay provides an enormous platform for your career.
As an addition to this, let me make you aware of the enterprises that trust Liferay!
Airbus Helicopters
Dominos
Infosys Finance
Nasa
Humanis
My Navy Portal
Volkswagen
University of London
Federal Bank
Philadelphia
So, want to learn this Course? Here are the types of certifications available in Liferay technology.
Liferay Developer
Platform Administrator
System Administrator
# Latest version available in Liferay is 7
So, to learn this technology, what the prerequisites needed are?
Here are some prerequisites that are required.
It would help if you had a basic understanding.
As we now know the details regarding this technology, let us move to the training part.
So, How to learn Liferay?
Few other options are giving essential information about Liferay. Even though they are helpful, these alternatives wouldn't give you complete details on Liferay either they don't provide any Certification.
As per my experience regarding this technology, I would suggest you enroll in the Online training Classes where you.
 Can earn enough knowledge and certification for your learning.
Because certification plays a vital role in training, a good training institute will help you with the Certification course.
Want to know more about Liferay training?
Here is some information regarding training.
Self-paced- where you will get pre-recorded videos, PDF materials, and Live projects to learn the Course on your own.
Live tutorials- where you will be trained with a live instructor's help and all guidance to learn the Course.
You can choose the type of training based on your comfort.
But which would be the best institute to go for?
Based on my personal experience CLOUDFOUNDATION would provide you better assistance to learn this technology without any hindrances. They will give you the best modes to learn Liferay quickly. Along you will also get 24/7 technical support from their team.
Next comes the Certification Exam; you will be provided with the necessary Material, Videos, and Demo videos to learn the Course and prepare for the Certification exam. You need to give the exam by enrolling on the appropriate website.
Go through the instructions and clear your exam successfully. You need to update your credentials and resume accordingly.
So, finally, I would like to wind up with,
Liferay is an open-source company that offers free services like documentation, developing, and designing the enterprises' websites. Liferay Community about more than 45,000 members. As this technology is one of the trendings and developing Cloud-computing technologies, one can learn this technology without any second opinion and get their Cloud technologies career.
To learn this technology get with CLOUDFOUNDATION and do your Liferay training successfully. Clear your certification and get into the extraordinary Liferay field.
Give your best and do your best!
# This blog is absolute!
I will be so glad if my blog helped you with the accurate information, and if you find anything that must be included in my blog, please comment down and let me know.
Gracias!

Bhavani
Author
Bonjour. A curious dreamer enchanted by various languages, I write towards making technology seem fun here at CloudFoundation.