AEM Tutorial (ADOBE EXPERIENCE MANAGER):
Introduction:
Hello all!!!!
Glad to interact with you all again.
Today in my AEM Tutorial Blog, I'm going to share some information for those interested in exploring their talents in the Adobe field.
Let's start!
What is meant by Adobe Experience Manager?
Adobe experience manager is a cloud-based software service provided by Adobe to analyze content and digital management. It is designed to develop and manage websites, assets, mobile apps, and marketing content. It permits you to manage every aspect of the experience that your brand presence to customers across all digital channels.
This technology also simplifies asset management by using all your marketing assets in every digital channel. Multiple large companies use AEM as their content management solution.
The most significant advantage of AEM is that it simplifies the content management and delivery of website content. AEM makes professionals work to easily manage their marketing content and assets and then dispatch them to the right consumer at the correct address.
AEM enables a simplified drag-and-drag-based content authoring interface. The marketers can quickly configure the websites and deliver them to end-users without extensive technical knowledge.
Who suits adobe experience manager?
Adobe experience manager tool is used in various fields like retail, manufacturing, financial services, and media & entertainment to increase workflow, scale personalization efforts, and centralize data.
Non-technical marketers can easily navigate the tool to build engaging interactions with a user-friendly interface, built-in features, and drag and drop functionality.
AEM brought a tremendous change in the market by increasing the workflow of every company. Thus every company is opting for this software.
Here is some research about the project I would like to share.
Today in this technological world, everyone is addicted to technology; life turned into mechanical energy. Machines are replacing humans, which makes the work quicker and faster.
Thus its always be challenging for companies to attract and meet the customer's needs. So the brands must rethink their digital strategies and focus on delivering adapted experiences and serving relevant content.
ADOBE EXPERIENCE MANAGER (AEM) is a company of online cloud-based services provided by Adobe for content and digital asset management system. AEM is used for building and managing websites, assets, forms, mobile apps, and marketing content.
It syndicates digital asset management by controlling a content management system to present optimized, customer-centric practices across channels, including web, email, mobile, and social.
Are there any prerequisites required for learning AEM?
To learn AEM, you must first know programming, template languages, and technologies.
Java
Servlet
Jakarta server pages
HTML(Hypertext markup language)
JavaScript
Ext JS framework
Sightly
Handlebars
Cascade style sheet
CMS or WCMS
Future of adobe experience manager analyst
Adobe is constantly staying ahead in the market and creating more capabilities for its projects. More companies using the Adobe Experience Manager area also buy other Adobe Marketing Cloud pieces to create a single ecosystem of Cloud marketing capabilities.
The companies that owned Adobe Analytics or Target are now investing in Adobe Experience Manager to capitalize on their integrations. With this increase in AEM users comes an increase in those learning AEM development.
Previously, it was a very specialized skill to develop or implement an Adobe Experience Manager site, but it quickly became less technical. Within the next 2–4 years, I see more developers learning AEM, driving down prices to hire those with these skills.
Adobe Experience Manager will continue to thrive, adding new capabilities time and time again. Getting help will be cheaper and more readily available.
How much time is taken to complete the AEM course?
Every course needs some prerequisites to start. In the same way, the adobe experience manager also needs some programming languages, which I already mentioned above.
If you are a student, it may take three months to be an AEM analyst, as you also need to learn the programming languages.
If your IT professional already knows programming languages, it may take four weeks to complete the course.
Does training is required to learn AEM?
Training makes the work much more effective and efficient, and you will be working on the real-time project works and immerse yourself into the subject.
Thus it helps you to gain in-depth knowledge of the subject.
Hence learning adobe experience manager software from training providers can help you understand the technology faster and easier.
How do I get certification?
After having the training, you need to prepare for the exam to get a certificate for the course.
The training providers will conduct the exam online. You need to appear for the exam by connecting to a high-speed internet connection, which helps eliminate any disconnection problems. It would be good if you also had a noise-free environment.
Some of the adobe experience manager certifications areas listed below
Adobe advertising cloud DSP business practitioner
Adobe work front fusion
Adobe commerce front end developer
Adobe experience platform
Adobe target architect
What are various steps to follow for an interview?
 After completing the training period, you need to search for the companies providing jobs for the technology. It helps if you had a grip over the basics, primarily in an interview.
You need to upload an updated resume to various job sites, which helps the companies find out about you.
So, to summarize, I would like to say that,
Adobe experience manager is one of the foremost technology in today's world. This technology brought tremendous changes in the workflow and production cycle
This helps the companies be at the top position in the market in delivering the products at the right time to the right place and increasing annual turnover.
This technology brought tremendous changes in the workflow and production cycle.
So the one who is interested in opting for this technology will reach high in their career found many opportunities. There are many opportunities for AEM analysts in the market.
I hope I was helpful to you with my AEM Training blog. You can help me with any further updates on this technology by commenting below.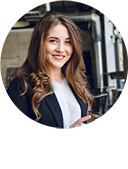 Akhila
Author
Hola! I believe words cause magic and here Iam helping you become aware of advancing technologies, because the future of communication starts here.