AEM Training: Digital Management Platform
#Introduction:
Great to see you again!
Are you worried about your career and having any difficulty in choosing the right career path?
Want to get refreshed with new courses?
Indeed, today in my blog, I will share how I benefited from the AEM training.
Let me give you an outline of this technology,
Let's get started!
What precise does Adobe experience manager(AEM) mean?
Adobe experience manager (AEM) is a cloud software suite provided by Adobe to examine content and digital management. It is designed to integrate websites, assets, mobile apps, and marketing content.
This technology enables organizations to simplify their workflow and manage every aspect to streamline asset management by using all marketing assets in every digital channel.
AEM integrates digital management, content management systems to present an optimized customer-centric experience across channels, including web, email, mobile and social.
How does this technology work?
AEM bought the most significant changes in the market by delivering the products and services to the customers at the right time, place, and person.
It provides a complete content management solution for building websites, mobile apps, and forms. It also helps organizations with marketing content and assets.
It enables the organizations to build lifetime values and deliver digital experiences over the lifespan to the customers, resulting in brand loyalty and grab demand.        
Why do so many top MNC companies utilize AEM?
Companies use this software mainly because it simplifies the management and delivery of websites' content and assets. It reduces the complexity of delivering online experiences to the right customers.
AEM enables a simplified drag-and-drag-based content authoring interface. The marketers can quickly configure the websites and deliver them to end-users without extensive technical knowledge.
 In what ways does AEM benefit a company?
AEM is one of the fastest-growing web programs today, and many companies get benefited from this technology. Some of them are as follows:
It can easily integrate with other marketing tools.
The components are very convenient to use and implement.
Ease of access
AEM enables smooth workflows for content management.
It helps to personalize the content for different groups of website visitors.
The components are ready-made and scalable, which makes the employee's work easy.
What are the companies that use AEM technology?
Seven hundred twenty-nine companies reportedly use Adobe Experience Manager in their tech stacks like:
Linkedin.
Double slash.
MasterCard.
NVIDIA.
Jpmchase.com
Verizon Wireless.
Cognizant.com.
ESRI.
 Further info that one should know about AEM
AEM consists of five elements, which are as follows:
Sites
Assets
Mobiles
Forms
Communities.
Using all these elements provides the companies with a comprehensive content management solution for building websites, mobile apps, and forms to manage the companies' marketing content and assets efficiently.
How do the learners get benefited from learning this technology?
Well, AEM has a massive scope at present in different industries and markets. Several MNCs companies are switching over from other tech stacks to this technology.
Thus there are vast job opportunities for an AEM developer.
So the one looking for this technology, you have made the right decision. You can build a stable career growth and life.
Is training much necessary for AEM?
AEM training can access from the leading websites, online sessions, classroom sessions, blogs, and videos.
But having training from a training provider can help you get complete knowledge over this technology.
Training providers stand as mediators between you and the experts' trainers, help you solve all your queries, and help you 24*7 by the committed technical support team.
What types of training will I get to learn this course?
You can acquire training in the following ways:
Self-paced learning: In this training, you will get access to saved offline videos, blogs, pre-recorded videos for a lifetime. which enables you to get the content for lifespan helps save your time.
Instructor-led live training: In this training, you will get direct interaction with the expert trainers to solve all your queries and a 24*7 committed technical support team.
What are the steps to follow for the Certification?
The trainee must clear the certification exam after completing the training period.
You must check out the top MNC partnered companies for the job opportunities and clear the interview rounds. You even have to upload the updated resume to various job sites to get leads from employers and professional peers.
Some of the adobe experience manager certifications areas listed below
Adobe advertising cloud DSP business practitioner
Adobe work front fusion
Adobe commerce front end developer
Adobe experience platform
Adobe target architect
I would like to summarize that
AEM has been honored as the leading cloud software for content management and digital management provided by Adobe.
It bought a tremendous change in the market by replacing all other tech stacks.
Thus this technology is worth learning to secure a stable life and career.
For this technology, I assist you in joining CloudFoundation to gain better knowledge from the best tutors.
I believe this AEM Training blog is helpful with an Overview of AEM. For further queries regarding the content I provided here, you can feel free to mention them in Comment Session below.
I will See you in my following writings; until then, check with my previous blogs.
I anticipate you get placed in a Predominant Organization and lead a Stable Career.
All the very best for your future!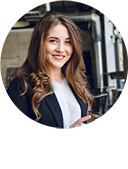 Akhila
Author
Hola! I believe words cause magic and here Iam helping you become aware of advancing technologies, because the future of communication starts here.